Customer service is crucial in any organization. A company can have great products and be #1 in sales but if customer service is not fast enough and is not high quality, it will be difficult to stay in the game.
Companies must be prepared to respond quickly to customer cases and handle them in one place. Salesforce CRM with Help Desk will give you a helping hand.
Help Desk is a tool that helps you to communicate with your customers and respond to their cases faster and more efficiently. With Help Desk, you can offer the best customer support experience to your customers!
Help Desk has many useful features, which will be overviewed in this article.
It is an intelligent IP telephony solution integrated into Salesforce CRM.
This tool is useful because:
The customer service specialist can see all customer calls in one place and will be able to manage them, answer, mute or end the call.
When the specialist is on the phone with the customer, all customer data will be available in just a few clicks.
The specialist will be able to see the entire conversation: the conversation will be automatically transcribed into words, so the employee will be able to concentrate on solving the customer's problem. The system also reacts to sensitive words (swear words). If they are detected, the conversation is passed on to quality control specialists for evaluation.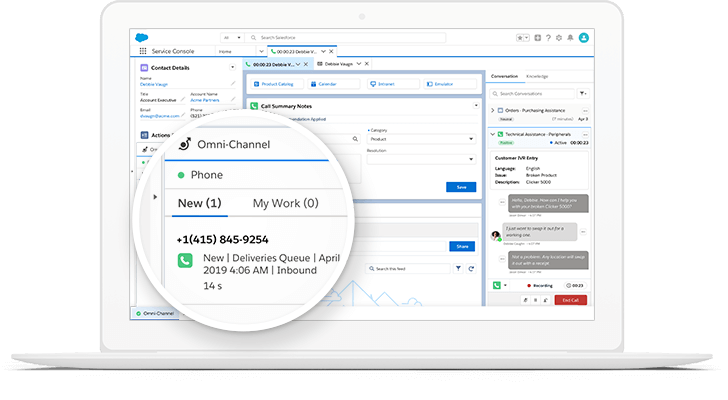 Chatbots have already won the hearts of many people and they usually initiate conversations with customers. Salesforce CRM and the Help Desk tool offer chatbots solutions that integrate easily with your website.
How can chatbots help you?
Chatbots can provide instant answers to customers' questions or instantly greet them with a pre-made message.

Customers will spend less time waiting for your customer support specialist to join the conversation.
As chatbots can handle easy situations, your customer support manager can focus on solving more complex problems.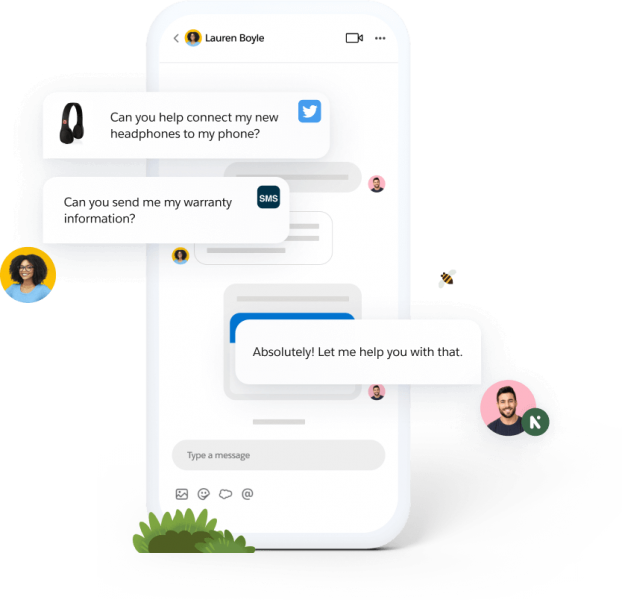 When a customer's status changes (e.g. the customer has placed an order, paid for an order, changed the delivery address, etc.), Salesforce system automatically sends a message containing the necessary information or a call to action.
The automatic message can be sent via various channels – SMS, Facebook Messenger, WhatsApp.
The result is saved time and, of course, cost. Compared to standard calls, you can reduce your expenses by up to 50% with outbound messaging.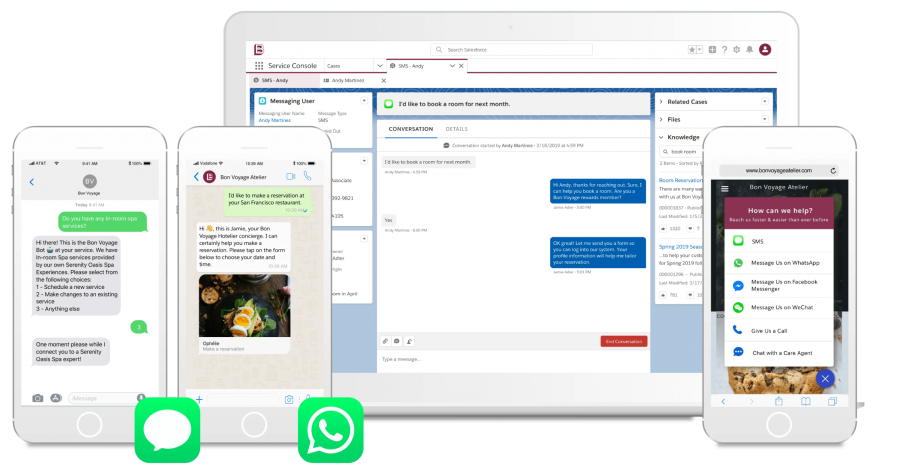 When a new customer's case is received, the Salesforce system automatically adds it to the system. Here are some of the functions:
Email-to-case function. When a customer sends a case to your email, the Salesforce automatically creates a new case in the system.
Web-to-case function. When a customer submits a case on your website, Salesforce automatically generates a new case in the system.
These Salesforce functions help your customer service specialist save time and make it easier to manage cases.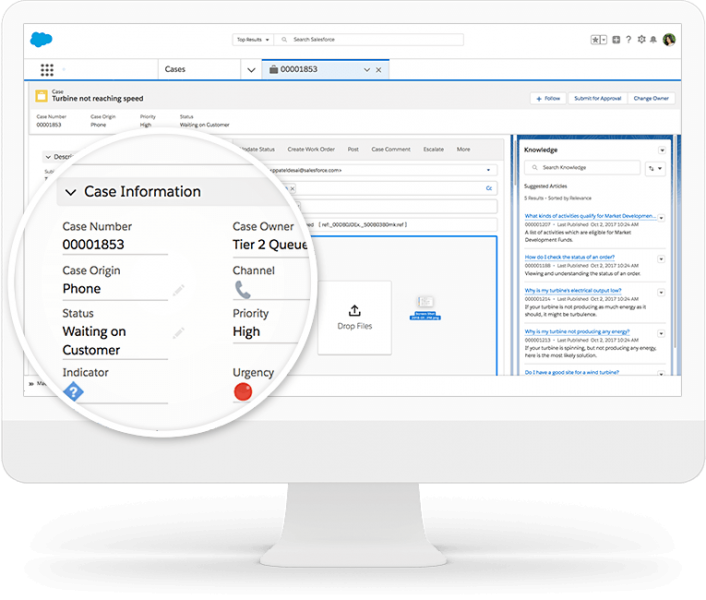 The cases you create are very easy to manage. Here are a few functions:
Case cloning. With a click of a button, you can duplicate an existing case.
Reply to a case. You can share cases with other CSSs and always ensure that cases are answered on time.
Case-to-email. Respond to customers' cases via email from within the Salesforce system. You can create and use templates to make the reply even more effective.
On top of that, you will see the analysis of employees' productivity in your dashboard, and you can set goals for customer service managers and track their progress!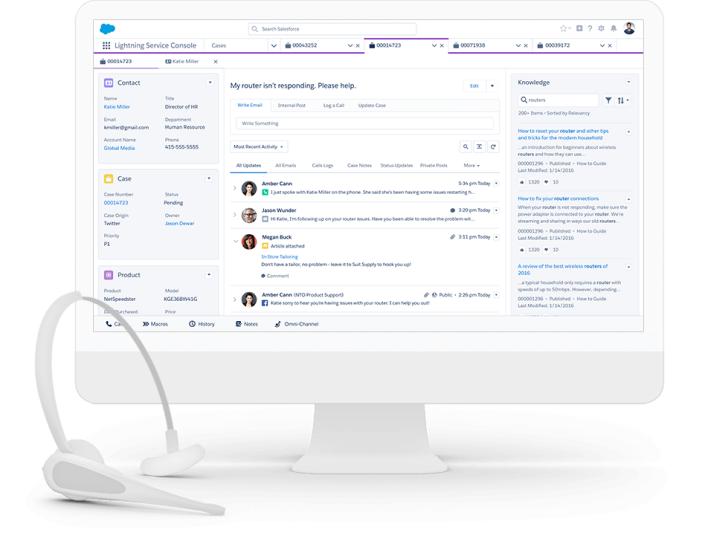 Integration with social networks
If people talk about your business on social networks, this function is a must.
With Salesforce's integration with social networks, you will see all the posts your customers have made on social networks about your business.
Customer service, sales, or marketing managers will be able to see and reply to all customers' posts on social networks (Twitter, Facebook, YouTube, WhatsApp, Instagram) in one place.
You will be able to convert them into Cases or Leads in the CRM system.
You will be able to automatically track all the keywords your customers have used on their social networks.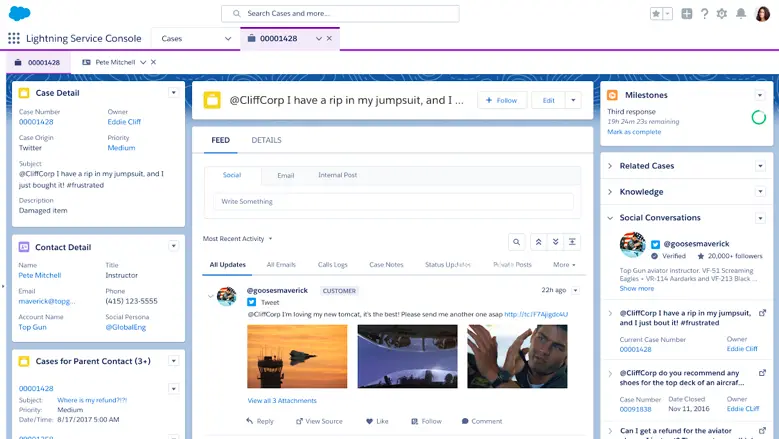 Check out other articles: